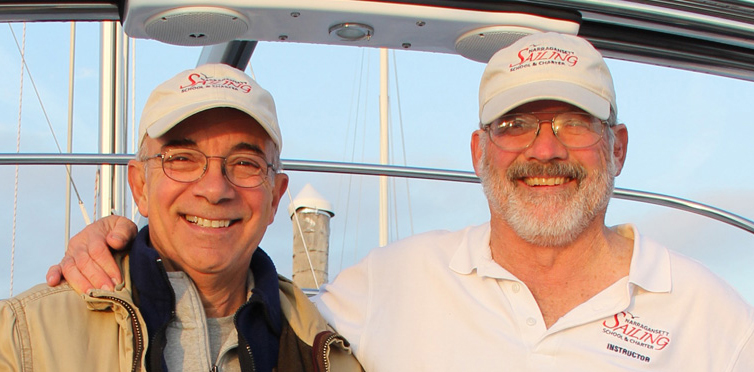 It all started in 1975 when Rob Lawnsby bought an old boat and moved aboard with two pre-school kids and an adventurous wife…and a book on how to sail! Knowing nothing at first, they cruised all over New England for a summer learning as they went, and then traveled south that winter on the Intracoastal. That began a life-long focus on boats and the marine Industry. In the 80's Rob built fiberglass sailboats working his way up to production manager for Sovereign Yachts. In the 90's Rob got into sales and became a yacht broker and in between cruised extensively from Maine to the Bahamas, and beyond. In 2001 Rob opened a new Hunter/Beneteau/Mainship dealership in Bristol, RI and managed all aspects of the dealership. Scrupulous honesty coupled with good communication and hard work guaranteed success, and those philosophies were instilled in the company culture.
Rob went cruising in 2007 returning in 2009, and although he enjoyed running the dealership, it was time to do something different;  Narragansett Sailing School and The Cruising Yacht Brokerage were born.
Coming from a boat dealership background Rob knew that many people had more money than sense when buying a boat. When asking basic questions about their sailing preferences, they couldn't answer. Most customers made an emotional decision about which boat was right rather than logical decision based on knowledge. The plan was to use the school to help people along the experience path with the boat purchase happening after the customer could make an intelligent decision.
In organizing this we have developed a process of customer education integrated into the buying process. Knowing what the differences are in various boats and learning what compromises are being compared is critical; because EVERY boat is a mix of compromises. Clients look at our listings and call, and they then mainstream into our boat buying educational process. They not only move to more appropriate boat options, but learn what to look for to evaluate a prospective vessel! Our goal to match the RIGHT boat to a client, not the biggest or most expensive.
Jim Spiro joined our team 7 years ago first as a sailing instructor for the school, and after a few years, with his extensive knowledge of boats and systems, he ended up managing the entire school operation. As the volume of business grew for the brokerage, another hand was needed; and Jim transitioned to full time broker. After a few years under Jim's guidance the brokerage business tripled, and he now is the manager in charge of all aspects of The Cruising Yacht Brokerage. Jim is a Certified Professional Yacht Broker, (CPYB) recognized as having achieved the highest level of industry accreditation, available only to fully-qualified yacht sales professionals.
The newest addition is broker Bob Millard who brings his expertise in boating to the arena here helping clients find the appropriate boat for their sailing plans!