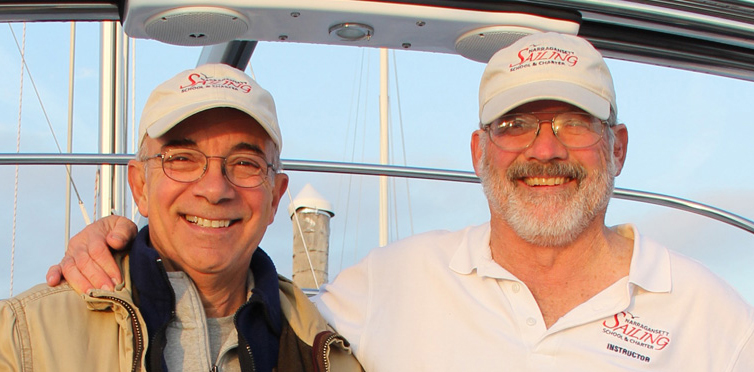 Entrepreneur and founder of The Cruising Yacht Brokerage, Rob Lawnsby, has been in the marine industry his whole life starting out in his 20's in the boat manufacturing sector. He was a grunt on the assembly line putting wiring harnesses in center console boats for Bayliner in Georgia. Within two years he was foreman of the sailboat assembly line, and within 5 years was the production manager for an emerging sailboat company that became Sovereign Yachts. After several years of breathing obnoxious fumes of the production line, he started a satellite sailboat dealership in Bristol, RI for Sailing Specialties out of Mystic, CT. From scratch he built that enterprise up selling new Hunters, Mainships, Southerly's and Beneteaus as well as a plethora of used boats both power and sail. At age 55 he took off cruising for 5 years.
Coming back at age 60 he founded The Cruising Yacht Brokerage in 2009, and that led to starting Narragansett Sailing School and Narragansett Sailing Charters a year later. The Goal was to bring families into cruising, give them boats to build their skills, and then get them in the right boat. We grew exponentially. As these three businesses grew Rob needed help managing them, and Jim Spiro came aboard to help run the Sailing School early on and be business manager for all three businesses. Jim had many years of experience sailing, was an ASA sailing instructor and a 100 Ton Master, and many years of experience running businesses. A partnership was born as both Rob and Jim had the same strong ethics, and both absolutely took care of the customers no matter what.
As the businesses grew more managers were added, and Jim moved over to become principle broker and business manager of the Cruising Yacht Brokerage. He has held that position since 2014.  As Rob approached 70, he sold off the Sailing School to Mary Goff who had managing it for years and sold the Charter Business to Rich Munson who was a sailor that learned to sail through the school. We like to keep things in the family!
As The Cruising Yacht Brokerage grew Jim's time management challenges became greater. We have been searching for a solution to the issues of too many customers, and absolutely not letting customer service falter. We found it with the merger of New England Yacht Partners and their brokerage staff, plus the hire of a new broker. So, what was just Rob and Jim, we now have added Bill, Sam, Kevin, and Michel!
Our name and location remain the same. The Cruising Yacht Brokerage at Safe Harbor Cove Haven marina. We are still loosely affiliated with the sailing school and the charter company as the three companies all help and assist each other. Much of our business is as Buyer's Brokers with a strong educational component to our sales style. We are here to help you find not the biggest boat, not the most expensive boat, but the APPROPRIATE boat for your style of cruising!